Glendale Slip and Fall Accident Lawyer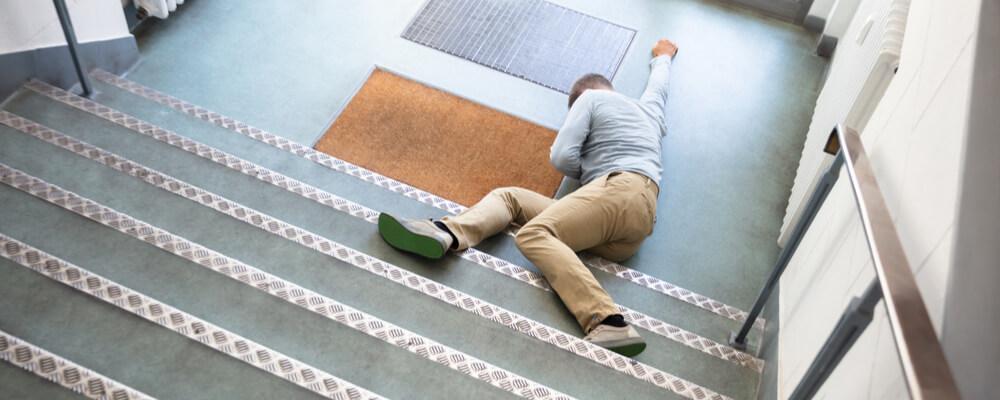 Attorneys for Slip, Trip, and Fall Injuries in Los Angeles and LA County
There are multiple types of cases in which a victim may pursue compensation through a premises liability claim or lawsuit, and these situations often involve fall injuries. A person who slips on a wet floor or trips due to hazards on a walking surface may fall down and suffer serious injuries. In these cases, a property owner or the tenant that was in control of the property may be held liable for the victim's injuries and damages. To ensure that they can recover compensation, victims will need to work with an attorney who can gather evidence to prove that the injury occurred because of the property owner's negligence.
At Tahmazian Law Firm, P.C., we understand how much a serious injury can affect you and your family. Even if a fall accident may seem to be relatively minor, you may require costly medical treatment, and you may lose income if your ability to work is limited while you are recovering. We are ready to fight on your behalf to make sure you can receive compensation that addresses these financial damages, as well as the pain and suffering you have experienced.
Causes of Slip, Trip, and Fall Accidents
Fall injuries can occur for a variety of reasons, including:
Wet floors

- The floors in a

store or restaurant

can become very slippery due to spilled liquids, a lack of floor mats near entrances, or failure to notify patrons that floors were recently mopped. If these issues are not addressed promptly, customers can easily lose their footing and suffer serious fall injuries.

Tripping hazards - Indoor areas may be dangerous due to obstacles in walkways, such as extension cords that stretch across walking surfaces. Other hazards that may cause a person to trip and fall include torn or wrinkled carpets or missing floor tiles.
Dangerous stairways - Slip or trip accidents that take place on stairs can lead to serious injuries if a person falls to a lower level. These accidents can occur because of damaged or slippery steps, broken or missing handrails, or inadequate lighting that made it difficult for people to see and avoid hazards.
Damaged outdoor walking surfaces - Trip and fall injuries can occur due to sidewalks that are cracked or uneven, potholes in parking lots, or broken curbs.
Slip and fall or trip and fall accidents can lead to a variety of injuries, and these usually occur due to the impact of a person's body with a hard surface such as a floor or sidewalk. If a person hits their head, they may experience traumatic brain injuries, which can lead to issues such as memory loss, cognitive impairment, mood disorders, difficulties with balance and coordination, and seizures. A person may suffer whiplash or other spinal cord injuries which can lead to paralysis in some cases. Other injuries that may occur include broken bones, sprains, muscle strains, serious bruises, or dislocated joints such as shoulders, elbows, wrists, knees, or ankles.
Contact Our Burbank Trip and Fall Accident Lawyers
Fall injuries can affect you in multiple ways. Emergency medical treatment may be required, and ongoing treatment and physical therapy may be needed to recover the use of the parts of the body that were injured. The costs of this treatment can add up quickly, and financial difficulties can become even worse if an injury resulted in a temporary or permanent disability. Tahmazian Law Firm, P.C. can provide skilled and dedicated legal help in these types of situations, and we will help you take the correct steps to ensure that you will be fully compensated for the ways you and your family have been affected by your injury. Contact our office by calling 818-242-8201 and arranging a free consultation. We provide legal representation in premises liability cases in Los Angeles and Los Angeles County, including Riverside County, Hollywood, Burbank, Ventura County, North Hollywood, Encino, Glendale, and Pacoima.