Causes of Falls in Hospitals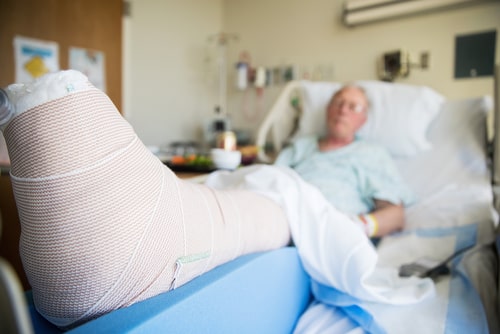 Hospitals are supposed to be safe places where people go to get better. Unfortunately, some inpatients wind up in worse shape after they are injured in a fall. People fall in hospitals for a variety of reasons, ranging from medication to physical therapy equipment failure. Many of these falls can be prevented by a careful hospital. Some causes of falls fall under premises liability, but others can amount to medical malpractice if the fall was directly related to the patient's care. The law there is nuanced, and a lawyer will need to evaluate the facts of your case. Either way, if the hospital's carelessness caused your fall, you may be entitled to receive compensation.
What Are Some Common Causes of Preventable Falls in Hospitals?
Sadly, the patients who are most vulnerable and most likely to suffer serious injury from a simple fall tend to be the most likely to fall. Elderly patients are at particularly high risk of being admitted to a hospital and then suffering a major injury, like a broken hip, after falling. Reasons patients may fall include:
Lack of precaution - When patients are at risk of falling due to age, medication, injury, or other medical issues affecting balance and gait, hospitals should use appropriate precautions to prevent that patient from actually falling. Appropriate precautions may include bed alarms, bed rails, not allowing the patient to walk without assistance, or making sure an assistive device like a walker is within reach. Call lights should also be kept within reach, as patients may fall out of bed struggling to reach them.

Equipment failure or misuse - Devices like lifts used to safely move patients can abruptly drop patients if they are not correctly maintained and correctly operated according to the manufacturer's instructions. This type of negligence can amount to professional negligence if the equipment was being used for the patient's treatment when the fall took place.

Environmental hazards - Medical equipment like oxygen tanks and walkers are sometimes left where patients can trip over them, especially if a room is poorly lit. Spills can happen in hospitals, just like everywhere else. This type of negligence is more likely to be ordinary negligence, and your attorney may recommend filing a lawsuit under a simple premises liability theory.
If you or a loved one was injured after falling in a hospital, you will want to speak to an attorney as quickly as possible. The sooner a lawyer can begin collecting evidence and building your case, the easier it may be to prove your claim.
Call a Los Angeles County Personal Injury Lawyer
Tahmazian Law Firm, P.C. is committed to helping victims of hospital negligence recover compensation for their injuries. Whether you have a medical malpractice claim or a premises liability claim, our experienced Los Angeles personal injury attorneys will fight for you to be fairly compensated. Call 818-242-8201 to schedule a free consultation.
Source:
https://www.performancehealth.com/articles/fall-prevention-strategies-in-hospitals