Did a Slip and Fall Injury Ruin Your Celebration?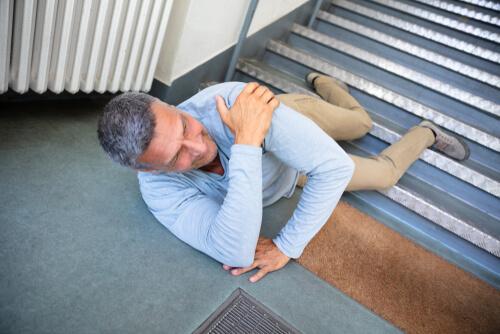 After-hours office parties at a restaurant or holiday get-togethers at someone's house are supposed to make for a memorable evening. Unfortunately along with the celebration, there is always the potential for serious injury. More than 8 million people in the United States wind up in the emergency room every year after suffering a fall. Slip and falls alone make up 12 percent of the total number of falls and account for 1 million ER visits. If you take a tumble and are seriously injured you may want to file a lawsuit.
Hazards Inside and Outdoors
Property owners have a duty of care to make sure they protect people's safety. Any hazards should be repaired or addressed. This applies to private property owners as well as public establishments. People often fall for the following reasons:
Wet floors – slippery flooring due to spilled liquids, recent mopping, and lack of floor mats

Tripping hazards - extension cords, missing tiles, and wrinkled carpets, among other hazards

Dangerous stairways - broken or missing handrails, damaged steps, and inadequate lighting

Damaged outdoor surfaces - cracked or uneven sidewalks, potholes, broken curbs
If you suffer a slip, trip, or fall injury you must demonstrate that the property owner should be held accountable for what happened to you, usually by proving negligence.
Types of Injuries Cause in Slip and Fall Accidents
Problems with flooring cause more than 2 million fall injuries each year. Slip and fall or trip and fall accidents are highly dangerous because you do not expect to fall and have very little time to react and try to hold on to something or someone.
Fractures are the most common consequence after a fall and occur in 5 percent of all people who fall. The impact of your head hitting a hard surface such as a sidewalk or floor can cause traumatic brain injuries. In some cases, people can end up with memory loss, cognitive impairment, balance issues, and seizures. A person could also suffer spinal cord injuries depending on the severity of the impact, which could lead to paralysis. Other injuries include whiplash, sprains, and dislocated joints such as shoulders, elbows, wrists, ankles, and knees.
Contact a Glendale Slip, Trip, and, Fall Premises Liability Injury Lawyer
If you are the victim of a slip and fall injury call 818-242-8201 for a free consultation. At Tahmazian Law Firm, P.C. we know that a fall injury can affect you in a variety of ways. Our law firm has Los Angeles premises liability injury attorneys who can provide dedicated legal help to ensure you take the appropriate steps and we will try to help you get the compensation that you and your family deserve.
Sources:
https://nfsi.org/nfsi-research/quick-facts/