Drinking and Driving Summer Surge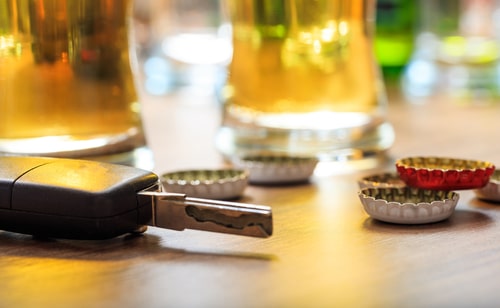 As the mercury rises and the days grow longer, residents of Los Angeles County are drawn to the allure of summer festivities. With the appeal of outdoor gatherings, barbecues, and beach parties, it is no surprise that alcohol consumption becomes increasingly prevalent. More than half of the accidents occur on urban roads and 73 percent of alcohol-impaired car accidents occur during good weather. In 2021, July was the summer month with the highest number of alcohol-impaired crashes nationwide. As the alcohol flows at summer parties, concerns arise about serious personal injury accidents.
Summer Parties and Alcohol
Summer gatherings can range from casual backyard barbecues to festivals, all of which can likely involve the ingestion of alcoholic beverages. It is no secret that summer parties often extend well into the night, with many attendees opting to drive home after dark. In fact, 67 percent of the crashes in 2021 happened at night. Summer drinking can also lead to trouble at lakes if someone is driving a watercraft or a boat under the influence of alcohol.
Establishing Liability
Experiencing an injury due to a collision involving a drunk driver can be a traumatic and life-altering event. In California, you have the legal right to sue a drunk driver for injuries sustained in a car crash under both personal injury and negligence laws. California follows a fault system for car accidents, which means that the person responsible for causing the accident is liable for the resulting damages. When a drunk driver's negligence leads to an accident, they can be held accountable for the injuries and damages they cause. Here is a closer look at how that may look:
Negligence and duty of care – All drivers have a legal duty to operate their vehicles in a safe and responsible manner. Driving under the influence of alcohol breaches this duty of care, as it is considered a reckless and negligent act.
Causation – To establish liability, you need to demonstrate that the drunk driver's actions directly caused the accident and your resulting injuries. This involves showing that their intoxicated state was a substantial factor in causing the crash.
Seeking compensation – If you've been injured due to a drunk driver's negligence, you have the right to seek compensation for various damages, including medical expenses, pain and suffering, lost wages, property damage, and any other costs directly related to the accident.
Punitive damages – In cases involving drunk driving, California allows for the possibility of punitive damages in addition to compensatory damages. Punitive damages are meant to punish the defendant for their reckless behavior and to deter others from engaging in similar conduct.
Contact a California Personal Injury Lawyer
If you have been injured in an accident by a drunk driver contact Tahmazian Law Firm, P.C.. Seeking an experienced Los Angeles personal injury attorney is vital to navigate the legal landscape and protect your rights. Call 818-242-8201 for a free consultation.
Sources:

https://leginfo.legislature.ca.gov/faces/codes_displaySection.xhtml?sectionNum=1714.&lawCode=CIV

https://injuryfacts.nsc.org/motor-vehicle/motor-vehicle-safety-issues/alcohol-impaired-driving/

https://www.moneygeek.com/insurance/auto/resources/most-dangerous-dui-days/