Premises Liability and Injuries at a Swimming Pool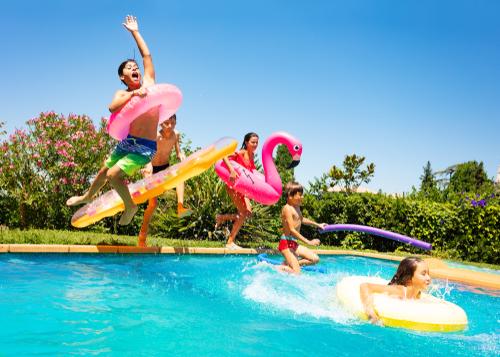 Nothing beats splashing in the pool during the summertime, especially with scorching temperatures in California. But in a matter of seconds, a slip and fall injury can occur poolside if you or your children are not careful. Approximately 6,400 children younger than 15 years old are rushed to the emergency room every year after suffering a pool and spa injury. Merely running on the wet cement to get in the pool is dangerous. So how can a slip, trip, and fall at the pool become a premises liability claim?
Private Pool vs. Public Pool
If you sustain an injury at a swimming pool in Los Angeles, it could potentially be considered a premises liability claim. If an injury occurred in a private swimming pool, a lawsuit would be filed against the pool owner and their homeowner's insurance if they have a policy that covers accidents that occur in the swimming pool. These lawsuits seek to show that the owner owed those injured at the pool a duty of care, to keep them safe while on their property but failed to do so. If the injury occurred in a public swimming pool, the claim will be filed against a public entity.
Establishing Negligence in a Premises Liability Claim
Premises liability refers to the legal responsibility of a property owner to maintain safe conditions on their premises. In the context of a swimming pool, the owner or operator of the pool has a duty to exercise reasonable care in order to prevent injuries to individuals using the pool and facility. Here are a few ways in which a swimming pool injury could be considered a premises liability claim:
Negligence in maintenance – If the pool owner or operator failed to properly maintain the swimming pool or neglected to address potential hazards, such as broken pool equipment, slippery surfaces, or malfunctioning safety features, they may be considered negligent in their duty to provide a safe environment for users.
Failure to warn of known dangers – If the pool owner or operator was aware of certain dangers associated with the swimming pool but failed to warn visitors or users about those hazards, they may be held responsible for any injuries that result from the undisclosed risks.
Violation of safety regulations – Swimming pools are subject to various safety regulations and codes, both at the state and local levels. If the pool owner or operator violated these regulations, such as failing to meet required safety standards or neglecting to obtain necessary permits, their actions could contribute to a premises liability claim.
Inadequate security or supervision – If your injury occurred due to a lack of appropriate security measures or supervision, such as insufficient lifeguards or inadequate fencing around the pool, the pool owner or operator may be held liable for their negligence in providing adequate safety precautions.
Contact a Glendale Premises Liability Lawyer
To pursue a premises liability claim for a swimming pool injury, it is important to consult with an LA County personal injury attorney who can evaluate the specific circumstances of your case. At Tahmazian Law Firm, P.C. we are dedicated to our clients and will advise you on the appropriate legal steps to take. Call 818-242-8201 for a free consultation.
Sources:
https://www.nsc.org/community-safety/safety-topics/seasonal-safety/drowning
https://leginfo.legislature.ca.gov/faces/codes_displaySection.xhtml?sectionNum=1714.&lawCode=CIV