Sepsis Can Develop as a Result of Nursing Home Abuse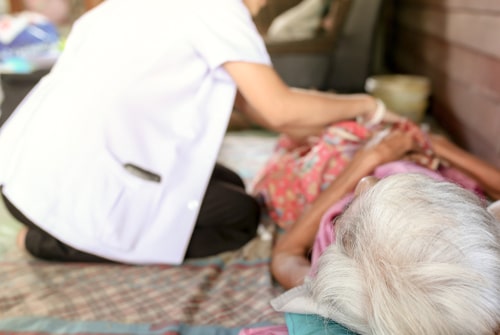 Nursing home residents are the most vulnerable to developing sepsis. This medical condition is all too common in nursing homes due to negligence or abuse. At least 1.7 million adults in America develop sepsis. It is unfortunate because nursing homes are meant to provide medical care and assistance for those who are not able to fully care for themselves. If you or a loved one has suffered nursing home abuse and developed sepsis you may be able to seek compensation.
What is Sepsis?
Virtually any infection, including COVID-19, can lead to sepsis but the elderly are especially susceptible. Sepsis is a life-threatening medical condition that is common among people with a weak immune system. This is a relentless condition that begins as a bacterial infection in the blood and worsens quickly because the body is unable to fend off infections.
The body usually tries to protect itself by releasing chemicals into the bloodstream but when someone has sepsis, there is widespread inflammation, which restricts blood flow. That can result in blood clots and severe organ damage. If it is not treated quickly, the lungs, kidneys, and liver can shut down, leading to septic shock, and in many cases, wrongful death.
Infections
Nursing home patients should be closely monitored at all times because even a minor infection can lead to complications. There are a variety of factors that can trigger the development of bacteria including the following:
Bed sores
Wounds after a fracture or a fall
Pneumonia
Respiratory tract infections
Urinary tract infections
Intestinal infections
Infections that may develop after breathing tube injuries
Substandard Care at a Nursing Home
Inadequate staffing and the lack of proper medical care and supervision increase the likelihood of patients developing sepsis. Everything from unsanitary conditions to intentional physical abuse inflicted by employees at nursing homes could lead to sepsis. At Tahmazian Law Firm, P.C., we will fight to make sure your family is fully compensated for the damages caused by a negligent facility and its staff members.
Contact a Glendale Nursing Home Abuse Lawyer
If you or a loved one has suffered nursing home abuse at Tahmazian Law Firm, P.C., we will help you seek compensation for your most vulnerable family members and work to hold those responsible for nursing home abuse and neglect. An LA County nursing home abuse attorney can help you determine your legal options following a nursing home injury. Call 818-242-8201 for a free consultation.
Sources:
https://www.sepsis.org/sepsisand/sepsis-long-term-care/
https://www.usatoday.com/in-depth/news/investigations/2022/03/10/usa-today-investigation-exposes-nursing-home-failures-during-covid/6853718001/