Top 5 Causes of Rideshare Accidents in LA County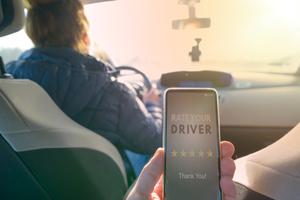 Using a rideshare service like Uber or Lyft can be a great way to get around. It is easier and less expensive than a cab and safer than walking alone or driving drunk. However, rideshare drivers can and do cause accidents just like any other driver on the road. Uber and Lyft drivers are not professional drivers and they do not have any additional training or hold any special licenses. It can be particularly frustrating to get hurt in a rideshare accident, as there is nothing you can do to avoid the crash from the back seat. People often use rideshare services for safety reasons and certainly do not expect rideshare drivers to put them in harm's way by driving carelessly. If you were injured due to your rideshare driver's carelessness, you may be entitled to compensation. Our law office can help you take the next steps.
Careless Mistakes That Cause Rideshare Accidents
There are a number of reasons that rideshare drivers may get into accidents. Common mistakes Uber and Lyft drivers may make include:
Navigation errors - Everyone has missed a turn or made a wrong turn at some point. The important thing is how they handle a mistake. Drivers may realize that they are about to miss a turn or an exit and choose to swerve abruptly rather than backtracking. This is a mistake and may lead to them striking another vehicle or losing control of the car.

Rushing - Drivers are often in a hurry to pick up as many passengers as possible in order to increase their earnings. This can cause drivers to speed, swerve in and out of traffic in an effort to get ahead, or even run lights in an effort to drop you off a few moments faster.

Distraction - It is easy for people who drive for work to get too comfortable or too bored behind the wheel. Drivers may feel that they can safely check their text messages, fumble with a playlist, or use their rideshare app while driving.

Intoxication - It is not nearly as unusual as you might hope for a rideshare driver to drink or use drugs while on the job. Especially if the substance the driver used does not produce an odor like alcohol or cannabis might, a passenger may not notice the driver's intoxication until it is too late.

Road rage - Many people become frustrated in heavy traffic, particularly in response to a rude or reckless driver. However, this is no excuse for a rideshare driver to act aggressively while carrying passengers.
If your rideshare driver got you into an accident, it is important that you speak to an attorney as soon as possible.
Contact an LA County Rideshare Accidents Attorney
If you were injured in a rideshare accident, Tahmazian Law Firm, P.C. may be able to help you recover compensation. Our experienced Glendale rideshare accident lawyers will investigate the cause of your accident and make every effort to prove the driver's negligence. Call us at 818-242-8201 for a free consultation.
Source:
https://driversed.com/trending/reckless-ridesharing-report-2020